My office
I work at home, on a desk near the window to benefit the most of the brightness and the birds singing in the nearby trees :)
My computer is near which allows me to regularly check my mailbox, and especially to work with music and watch TV shows!
No one smokes at home, therefore no risk that your products smell tobacco.
All my creations are made with love and care ❤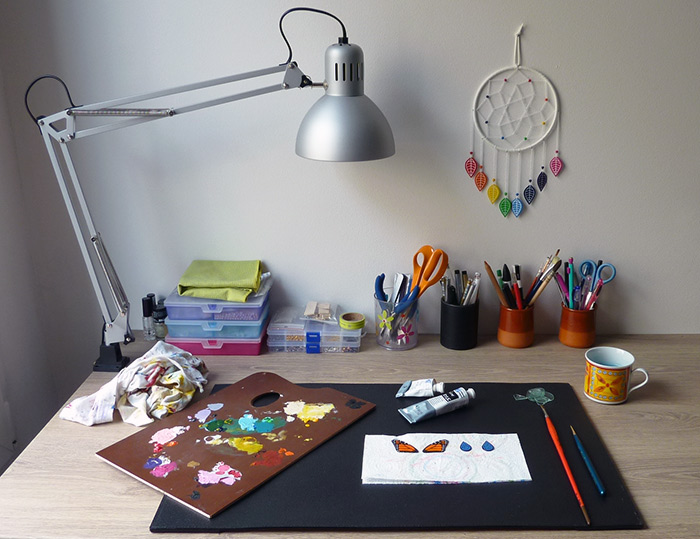 ---
The recycled CD beads
They are the peculiarity of my shop, and you will not find anywhere else because it's a technique that I invented !
I use these beads to produce my jewelry, charms, hair accessories and my magnets, and to embellish my dreamcatchers and my entomological box frames.
They are entirely handmade from CD or DVD that I recycle.
I can work for hours on the most advanced pearl, in particular for making butterfly necklaces.
I start by cutting with scissors the forms I need in the CD.
Sometimes, it's first necessary that I remove the glossy film to make transparent plastic, as with the fairy wings earrings.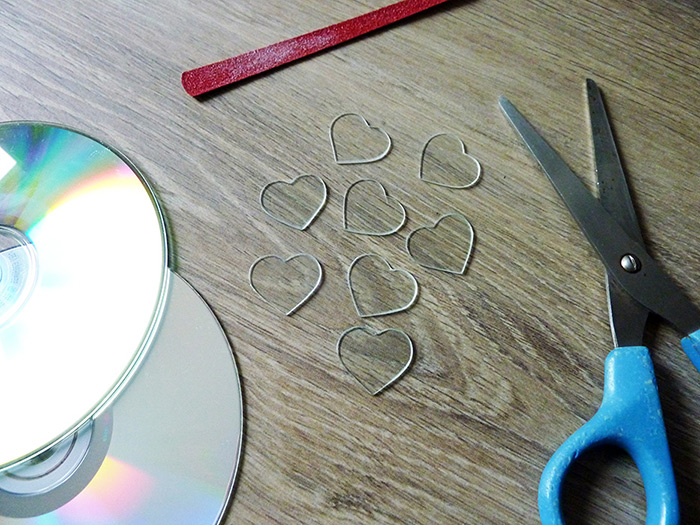 Once the beads have been cut, I sand down the sides to remove imperfections and avoid it cuts.
Later, depending on the model, I paint tese beads with acrylic paint on both sides and on the border.
I can also use pigmented ink pens to make some drawings.
For my old creations, I applyied two coats of gloss varnish to sublimate the colors and protect the paint of the vagaries of time.
But today, I mainly use epoxy resin.
Finally, I drill the holes that will be needed for fixing.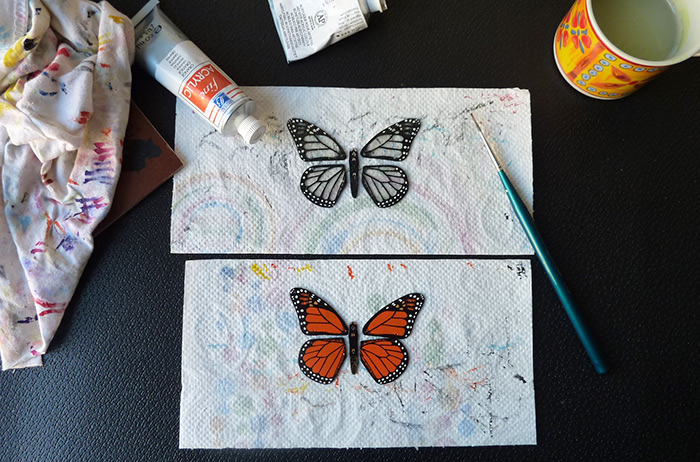 ---
The painted stones
It's a real work of patience and precision !
I spend on average 3 hours to achieve a painted pebble.
Each stone is first brushed to make it clean.
Then, I applied several coats of acrylic paint over its entire surface, until the color is very uniform.
Then comes the fun part : I draw zentangle with pigmented ink pens, by ensuring that the whole is harmonious.
This is a special ink that is resistant to water and sunlight, which means that the colors of the painted rock will not fade over time.
Finally, I apply two coats of gloss varnish to protect the paint and make the colors more bright.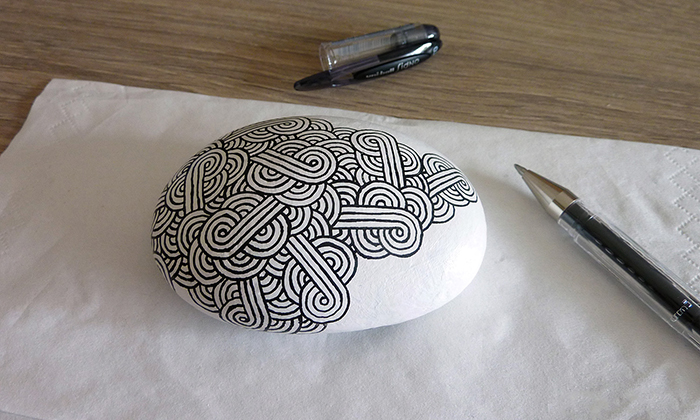 ---
Unique creations
All my products are entirely handmade, there may be slight variations in size, color and patterns between each model... which makes them unique !
This is particularly the case for the painted stones, because no stone can't be identical to another in shape and weight.
---
Learn more about...